Here's what is coming up in the next few months. Join us at one or all of the following happenings!
---
Holiday Cookie Exchange
Please join us for a Holiday Cookie Exchange
Saturday, December 7th
1:00 p.m. – 3:00 p.m.
At the home of Janice Weiner, 24321 Taranto Ave., Valencia
Please RSVP to Janice at
661-714-1117 or jmw2kdsdog2@yahoo.com
Lunch will be served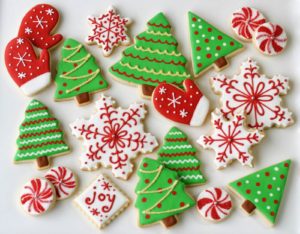 Please bring 3 dozen homemade cookies, bar cookies, or fudge from one recipe, to exchange.  Looking forward to seeing you then.
-Janice
---
Mah Jongg Game
A new Mah Jongg game has been formed. It will be on the 3rd Wednesday, 10:30-2:30. Contact Lanell Barnes if you want to join the fun.
---
Share Your Expertise With Us
Do you have a special skill or knowledge in a particular field???
Maybe:
Arranging flowers
Criminal law
Auto Care
etc.???
Please think about sharing your expertise with us at one of our luncheons next year. If you are interested in being a part of one of our luncheon programs in 2020, please contact me.
Pat Oguss
Luncheon Program Chairman
---
November Birthdays
Marcie Gorham – 11/1
Starr Sachs – 11/3
Patty Turner – 11/9
Lois Silverman – 11/11
Lillian Christopher – 11/14
Eileen Harrington – 11/14
Barbara Behrens – 11/17
Cheryl Gray – 11/18

Linda Kahl – 11/19
Grace Elliott – 11/23
Karen Towles – 11/23
Rosalyn Glenn – 11/24
Kathy Valis – 11/24
Carolyn Wolf – 11/24
Michelle Gilman – 11/26
Joanna Lauesen – 11/27
Brenda McCullough – 11/29
Priscilla DeVore – 11/30
Shirley Hollingsworth – 11/30