Here's what is coming up in the next few months. Join us at one or all of the following happenings!
Wednesday, August 28, 6-8 PM – Brew Ha-ha
Join us for a casual evening of brews, pasta, and fun!
at Tomato Joe's Pizza and Taps 19167 Golden Valley Road
We'll meet at the restaurant, order and pay for our own meal, and enjoy each other on a summer night
If you choose, you may partake of the "Beer and Wine Wall" where you pour your own brews. Blend them even!
Friends and family are welcome to join us
Please RSVP to Donna C at least two days prior
Friday, August 30th – Game Day!
Come and learn to play Hand Knee Foot, and Rummikube
12:30 – 4:00 at the home of Kay Moioffer
Please RSVP to Kay at least two days prior.
Holiday Cookie Exchange
Please join us for a Holiday Cookie Exchange
Saturday, December 7th
1:00 p.m. – 3:00 p.m.
At the home of Janice Weiner, 24321 Taranto Ave., Valencia
Please RSVP to Janice at
661-714-1117 or jmw2kdsdog2@yahoo.com
Lunch will be served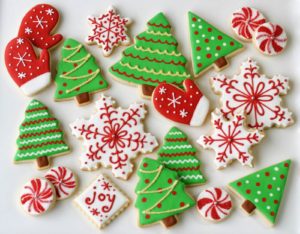 Please bring 3 dozen homemade cookies, bar cookies, or fudge from one recipe, to exchange.  Looking forward to seeing you then.
-Janice
She's sick, down in dumps, family news-joyful or sad, recovering from physical ailment, or just plain needs a boost—we can help. Just call Kitty Z., Sunshine Coordinator. Life is always better when you know someone cares!
September Birthdays
TRISH MOORING – 9/2
MARSHA MCLEAN – 9/3
CHELLEE BARASH – 9/6
MARGARET GILMER – 9/6
LA NELL BARNES – 9/11
ROXIE GERBER – 9/11
JOAN HOFFMAN – 9/11
GERI BENNE – 9/12

NANCY ANDREWS – 9/13
KATHY (MARY K.) LEGGITT – 9/18
ANNA ZIMMERMAN – 9/26
CAROL YANEZ – 9/29