Here's what is coming up in the next few months. Join us at one or all of the following happenings!
---
It's Time to Get Involved
The nominating committee is now taking names for those wishing and hoping to be on the board next year. You might be interested in a board position for the first time or ease into it by co-chairing with someone. If you are already serving, do you want to keep your position or try something new? As a member, your voice is always heard, but as a board member, you get to take action and be involved!
Contact Maggie B or Joyce B for info or if you are just curious about the process.
---
Newcomer's Game Day
A Game Day is scheduled for Friday, January 31, 2020 from 12:30 – 4:00 pm at Kay M's home.
Open to Newcomer members who would like to learn a new game. If you would like to learn Rummikub; Hand, Knee and Foot; or Tripoly, RSVP to Kay by January 27.
---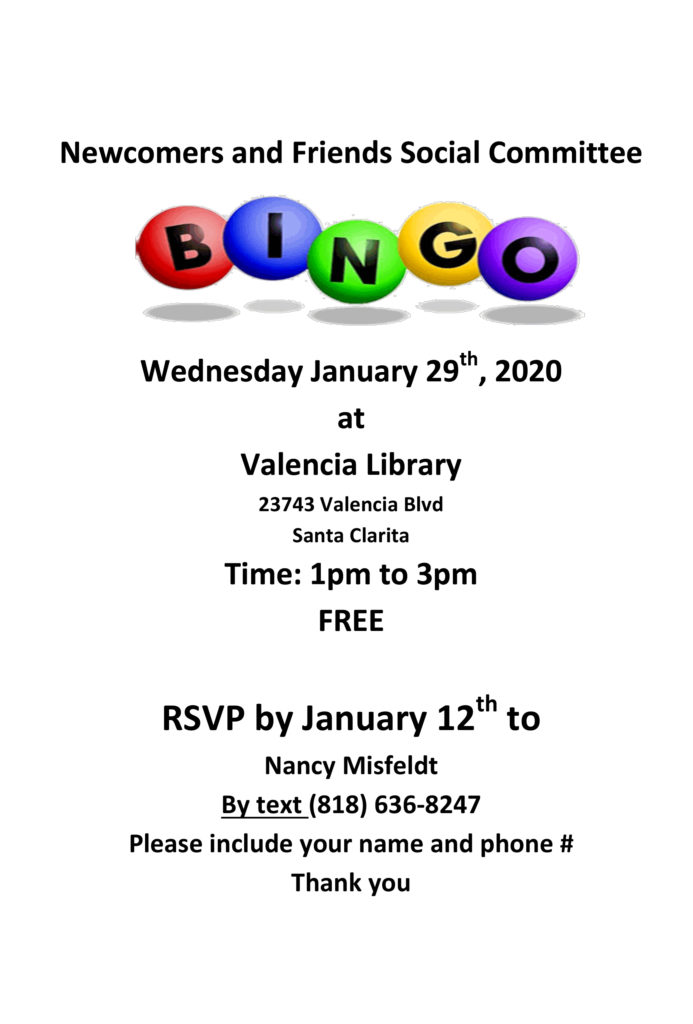 ---
Mah Jongg Game
A new Mah Jongg game has been formed. It will be on the 3rd Wednesday, 10:30-2:30. Contact Lanell Barnes if you want to join the fun.
---
Share Your Expertise With Us
Do you have a special skill or knowledge in a particular field???
Maybe:
Arranging flowers
Criminal law
Auto Care
etc.???
Please think about sharing your expertise with us at one of our luncheons next year. If you are interested in being a part of one of our luncheon programs in 2020, please contact me.
Pat Oguss
Luncheon Program Chairman
---
January Luncheon Highlights
Four-time Mayor of Santa Clarita and Newcomers member, Marsha McLean, took time out of her busy schedule to speak to our members at the January luncheon. Currently, she serves as Council woman for the City of Santa Clarita.
Ms. McLean proudly told us the California State auditor recently placed Santa Clarita in the top 5 percent of fiscally healthy cities in California. There are over 450 cities in California.
Further, she invited us to our City's Annual Spring Events. The world-famous Santa Clarita Cowboy Festival will be held on Saturday and Sunday, April 18 and 19, at William S. Hart park in Old Town Newhall.  Earth Arbor Day Festival will be held on Saturday, April 25,10:30 am to 5 PM, at Central Park on Bouquet Canyon Road.
Ms. McLean looks forward to seeing you at these and future Santa Clarita events throughout 2020.
Pat O,
Program Chair
---
February Birthdays
Christina Herman – 2/02
Linda Bakkom – 2/05
Milly Ginsburgh – 2/06
Donna Jones – 2/06
Joan Loomer – 2/10
Noreen Motts – 2/11
Jean Luehrs – 2/12
Alyce Kesselman – 2/17
Shirley Birnholz – 2/24
Wanda Perry – 2/28