She's sick/ down in dumps/ family news joyful or sad recovering from physical ailment/ just plain needs a boost—we can help just call Kitty Z., Sunshine Coordinator. Life is always better when you know someone cares!
Holiday Cookie Exchange
Please join us for a Holiday Cookie Exchange
Saturday, December 7th
1:00 p.m. – 3:00 p.m.
At the home of Janice Weiner, 24321 Taranto Ave., Valencia
Please RSVP to Janice at
661-714-1117 or jmw2kdsdog2@yahoo.com
Lunch will be served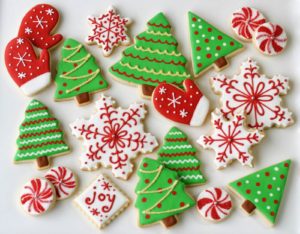 Please bring 3 dozen homemade cookies, bar cookies, or fudge from one recipe, to exchange.  Looking forward to seeing you then.
-Janice
Ice Cream Social
Come join us for an
Ice Cream Social
Wednesday, July 31 | 1-3 PM
at Lanita Algeyer's Home
Ice Cream with all the fixings will be provided.
Games and Friendship!
RSVP REQUIRED by July 27th.
Space is limited!
Call or Email Lanita Algeyer or Nancy Misfieldt, Social Chairs to RSVP!
Please note Lanita's House is a Cat Friendly Home.
Explorers Trip to San Juan Capistrano
Join us for a train ride to this quaint beach town for lunch, wine tasting, or tour the Mission. We'll meet at the Santa Clarita Metrolink Station (on Soledad) at 7 am. The train departs at 7:23 and you have to purchase tickets before boarding.
We'll have four hours to wander the town and we'll be back at the Santa Clarita station about 6 pm. Your train ticket will be $10 and lunch is on your own.
Contact Donna C. at donnapea@gmail.com to reserve a spot or for more info.